What to Wear White Water Rafting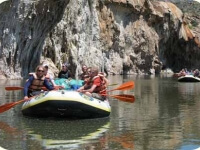 Clothing Items To Be Brought On A Multi-Day Rafting Trip
It doesn't matter what endeavor is being undertaken, the proper clothing can make unpleasant conditions bearable, while having improper clothing can even make pleasant conditions nightmarish. Bellow is going to be a short list of the absolutely necessary clothing items that should be taken when going on a multi-day rafting trip.
Shoes
Most people might think that when you're going rafting, you're not going to need any shoes at all considering you will sitting in a raft all day. If that was the case, then yes, the no shoe rule would apply. However, that is probably not the case in 99% of instances. You will want shoes for when you are both boarding and exiting the raft, as many times you will have to walk across rocks. Also, if you are ejected from the raft while going through rapids, having shoes on will help to protect your feet from rocks and debris you will be passing over.
Ideally you would want a water shoe, but if you do not have that, sandals with straps will suffice. You can also wear sneakers, you just want to make sure the shoes you wear are not heavy in themselves, and can allow water to escape.
Shirts
It is critical to keep yourself covered while whitewater rafting as you will most likely be exposed to the sun the most of the time you are on the river. Being exposed to the sun for that long can cause sun stroke, heat stroke, sun burns, and dehydration. Also, the river water will reflect much of the sunlight that wouldn't have hit you, so you are receiving much more sun than is normal.
You will want to pack shirts that dry easily, which means they shouldn't be cotton. But rather, polyester or nylon. Anything that wicks easily will be useful, you may think having a shirt thats wet will keep you cool, which is true. But come nightfall, if your shirts cannot dry, you're gonna be cold.
Pants/Shorts
It is probably wise to cover your lower half equally as much as your upper. But considering it will be more difficult for the sun to reach your lower half when you're sitting, you can probably get away with wearing shorts over pants. Though, you will want to be aware of the weather conditions that will be present. If it's going to be cooler, you may want to wear pants.
You will want to wear shorts/pants that dry quickly as you will not want them to remain wet come nightfall. If the weather is cooler, it will also be better during the day if your pants are dry to keep your body warmth up. You will want to avoid cotton for this reason, and stick with a canvas type or polyester.
Eye Wear
You will be very happy if you remember to bring your sunglasses whilst river rafting Colorado as the water will be reflecting the light into your face no matter which way you turn. It will also keep the water from splashing into your eyes, which will help to keep you focused on paddling. You are going to be in direct sunlight most of the time, so unless you don't care to be squinting the entire day, you would be wise to remember your sun glasses.
Hopefully this will help to show that you cant roll out to go rafting a Colorado river in whatever you woke up in. It is essential to wear clothes that dry quickly, and cover your upper body well enough to avoid as much direct sunlight as possible. The clothes that have been described are solely for the rafting bit of a trip. You will want warmer clothes to wear come nightfall as your body will be chilled from rafting all day. So fleece pants and a sweater will make you very happy when you are trying to warm up and enjoy the evening.
Colorado River rafting and white water rafting the Arkansas river present a unique problem. You are going to be hot during the day but cannot be exposed to the sun, you will want the water to cool you off, but you'll need to dry out. So if these issued can be addressed and handled prior to beginning the trip, you will have a much more pleasant time overall.