The Colorado Boy Scout Troops Guided Rafting Trips with Wilderness Aware
Whitewater Merit Badges with Wilderness Aware Rafting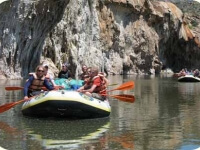 Wilderness Aware Rafting offers guided rafting trips in Colorado and Arizona for Troops of the Boy Scouts Club of America. We take great pride in being able to help provide youths with the knowledge, experience, and appreciation for rivers and whitewater sports. We offer essential rafting and kayaking skills and training, as well as actually guiding the trips ourselves. This is a great benefit as our guides are as experienced as they come, and their intimate knowledge of rafting safety, techniques, and rivers in general greatly enhances the understanding of both scouts and scout leaders alike.
Founder and owner of Wilderness Aware Rafting, Joe Greiner, was once a boy scout himself. His passion and love of the outdoors and that of teaching others has made it an easy decision to set up rafting trips for Boy Scout troops. Joe is aware, because he had the same experiences himself, that the outdoors can help develop a boy and grow him into a man. The lessons learned through being a Boy Scout greatly define a child's overall character and how that child will be when they are older. Their love, appreciation and respect for nature, knowledge of wilderness survival, and all other benefits of Scouting stems from the training they receive. It builds upon the merits and badges they've garnered.
Boy Scout Whitewater Merit Badge Considerations
Canoeing, kayaking and overall whitewater rafting can be a thrilling and memorable experience. In order for rafting to be considered safe, every Scout participant needs to understand how to use and maintain equipment, as well as specific rafting techniques that are important to know on the river. The end goal is obviously to teach scouts to have a strong respect for the power of all of nature's vast waterways. Beyond that, that if that power is respected and understood, it can then be enjoyed in any number of ways.
There are a number of requirements that should be understood before attempting to receive your whitewater merit badge (view the full list of requirements). Once a Scout earning his Merit Badge has a full understanding of the risks associated and precautions to take prior to any water expedition, and they know their own ability and limitations, they can begin working to receive their Badge. However, if a Scout leader does not believe the risks are appreciated, or that the Scout does not understand fully the equipment or techniques, they will be told to wait. There is nothing more dangerous than allowing someone to raft who thinks they know of all the inherent dangers and in actuality to do not. Appreciation comes with understanding, and understanding is the first step towards safety.
Why a Whitewater Merit Badge Is Worthwhile
Over the years, we have worked with many different Boy Scout Troops and have had the privilege to witness firsthand the benefits whitewater rafting can offer to youths. Testimonials can be seen on our video page on site, and also here. But in sum, these trips teach Scouts to first and foremost respect nature and her vast power inherent in our nation's waterways.
Beyond respect, a love for the outdoors amongst our nation's youth has been dwindling rapidly over the years. Fewer and fewer people have a want for going outdoors as every other distraction available keeps their eyes fixed to a screen rather than on the horizon. They're understanding and respect for nature is absent save in the sense that they've been taught its worthiness. However, very few are able to appreciate it fully as they haven't had the opportunity to experience it. Now as far as this goes for Boy Scouts, it's probably not an issue. They've been taught why nature ought to be respected, and have learned through their numerous lessons that it is indeed deserved of their love.
If your Boy Scout Troop wants to offer whitewater badges to their scouts, be sure to contact us to see what trip offerings are available. Wilderness Aware Rafting We will work hard to make your trip the best and most memorable possible, all while ensuring the requirements to receive a badge are met.
At Wilderness Aware Rafting, we understand how a proper family rafting vacation can create some of the best memories a person can have, after all, we have our testimonials to base that off of. If you are interested in a Colorado Rafting Trip, Denver Rafting, multi-day rafting trip, or want to try rafting the Salt River near Phoenix, AZ, please be sure to contact us and find out what white water rafting trips we have available.