The Various Types Of WhiteWater Craft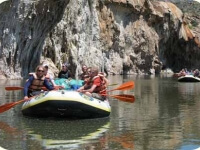 If you haven't spent much time near a river, then you may only know of a few types of whitewater crafts that are available for whitewater rafting. Or you may only have seen certain ones in photos or in videos, but you shouldn't be surprised to learn that there are quite a few different types. Just as with any other activity, there have been numerous innovations over the years to handle specific needs. We are going to touch on a few of the more common crafts found in rivers these days and why they are in use.
Kayaks First we should mention the most well known of all white water rafting crafts, the Kayak. There are two types of Kayaks, Sea Kayaks and Whitewater Kayaks. Sea Kayaks are traditionally longer, less maneuverable, and handle better in water that is not flowing quickly. Whitewater Kayaks are better specialized to deal with water that is flowing up over and onto the deck. They are also shorter and more maneuverable, and stable in turbulent water. If either style of Kayak is flipped, they can be righted by means of an Eskimo Roll. Whitewater Kayaks are easier in this manner, as there is simply less boat to muscle.
Rafts Rafts are by far the most common of all water crafts, they are what you normally see rafting companies use for whitewater rafting trips. They are significantly more stable than Kayaks, but equally less maneuverable. Rafts are inflatable, and made from high strength fabric coated with PVC, Urethane, and Neoprene. Most rafts are large enough to carry multiple passengers, though there are single person whitewater rafts available.
Catarafts Catarafts are built from the same material as Rafts. Though specialty Catarafts can be made with a metal frame and are called Shredders. Typically, they are made from two inflatable pontoons on both sides of the craft and are bridged in the middle by a frame. In the middle, upon the fram, is where the seats are located and usually only hold a few passengers for whitewater rafting purposes. There is only one person rowing at a time, called the oarsman. The passengers are usually just along for the ride, having no real responsibilities. At times the oarsman will be guided by a spotter, but this is only when traversing difficult rapids and through areas where multiple obstructions persist. Catarafts can be any size, but generally they are smaller than rafts which helps to be more maneuverable.
Canoes There are some people who prefer to keep it traditional upon a rafting vacation by using one of the oldest means to go rafting, the Canoe. Canoes were first created from tree trunks, but now a days they are made from fiberglass, Kevlar, and plastic. Spray covers can be added to keep water out from the hull, which then begins to resemble a Kayak, but generally they are left open. Often times, open Canoes have large airbags or foam pieces placed to the sides to help displace water in the boat when it becomes swamped. There are also holes towards the top rim of the Canoe, so if the raft does become swamped, the raft can be tipped towards one side to allow the water to escape. If a Canoe is rolled, it can be corrected just as a Kayak can, but it is quite a bit more difficult to accomplish.
C1s C1s are very close in design to whitewater Kayaks, except rather than sitting as you do in a Kayak, in a C1 you kneel. The paddles used are also smaller, and only contain a single paddle rather than the double sided ones normally seen. They are a little shorter than Canoes, but a little longer than Kayaks. As you could assume, this means its more maneuverable than a Canoe, but less than a Kayak.
McKenzie River Dory The McKenzie River Dory is a more traditional hard sided craft. It is generally wide with a flat bottom, flared sides, a narrow and flat bow, and pointed stern. This design allows the craft to spin about on its center which makes it extremely maneuverable. These crafts are used specifically for running rapids where maneuverability is paramount, where positioning is important when entering difficult and turbulent stretches.
River Bugs River Bugs are by far the most minimalist of all whitewater crafts. They are essentially a glorified tire tube. The raft is shaped as a horseshoe, where the rafter is positioned in the middle with their feet pointed toward the open end. A mesh or plastic seat is provided in the middle to keep you in place, and an inflated back rest to lean against to avoid being struck by rocks. You paddle with your feet and hands which makes them less maneuverable than you might imagine. However, there really isn't much steering required, you essentially hold on for the ride as your shot through the rivers torrents.
If you intend to go on a salt river rafting or a Colorado river rafting trip, then you are going to want to familiarize yourself with the types of crafts available as they are not all the same, nor can they be handled the same. If you wanted to take an Arizona whitewater rafting or Colorado whitewater rafting trip that is planned by experienced tour guides. Then visit www.inaraft.com to see what options are available.