A Remarkable Story Of Survival At Sea: Poon Lim
Poon Lim: Record Holder For Longest Time Spent Adrift at Sea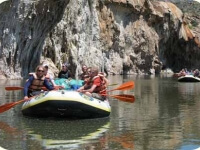 When it comes to rafting, we know a thing or two. But even with all of our combined experience and knowledge, the story of Poon Lim is extremely hard to fathom. It is one of terrible tragedy and fortunate chance, mixed with flashes of promise and despair, ending finally with his much deserved and needed salvation from the sea.
Poon Lim holds the world record for time spent surviving on a life raft as a castaway adrift at sea. In 1942 he spent over 4 months, 133 days, on a life raft in the South Pacific Ocean. His journey was harrowing, terrifying, and truly depicts mans resilience, ability to survive, as well as the potential fortitude of our minds and bodies. When discussing the story of Poon Lim ,we can only do so with an overtone of respect and admiration. As what else could you consider after hearing his tail.
At the ripe age of 73 he died in Brooklyn New York in 1991. His most famous words on the subject, after being asked what he thought about being the record holder for the person to survive the longest adrift at sea was simply, "I hope no one will ever have to break that record." I imagine he meant those words and probably wouldn't wish such an adventure on any of his worst enemies. So without further ado, here is the tail of Poon Lim, the epitome of a survivor.
The Survival Tail of Poon Lim
Poon Lim was of Chinese decent, and served in World War II as a second steward aboard the SS Ben Lomond British merchant ship. The ship overall was slow and sluggish, barely armed, and at the time was sailing by itself away from any other friendly ship. A German U-Boat managed to come across the Ben Lomond and sunk the ship with a torpedo. Being caught off guard, most of the ships crew on board sunk with the vessel. Of the total 55 crew members on board, 11 were eventually saved by other ships. Though, Poon Lim did not have such luck, and fate had something terribly different in mind for him.
As the ship was sinking, Poon Lim managed to secure a life jackets and jumped into the sea. He swam for around 2 hours until he spotted an 8 by 8 foot wooden raft which he made his way to and boarded. In the end, this was really his only instance of great fortune for the remaining 133 days. Because from then on, there was really nothing but trouble to torment him.
Taking Stock of His Condition
Once Poon Lim caught his breath, calmed down, and truly considered the position he was in, the first thing he needed to do was take stock of his supplies and anything else at his disposal. The raft itself was supplied with meager survival rations containing tins of dried biscuits, 40 liters of water, a bag of sugar cubes, chocolate, 2 smoking pots, an electric torch, and a handful of flares. He also had the clothes on his back and the life jacket he managed to secure before jumping off the sinking ship.
Finally, and probably one of the most terrifying aspects of his condition was that Poon Lim could not swim. The life jacket he managed to grab literally saved his life long enough to find the life raft. He was constantly worried about falling off his life raft as you would imagine, and as a precaution, he kept a rope secured to his wrist, every day mind you, in case he fell over.
But regardless of whatever rations the life raft provided, there was no way for his provisions to last him the extent of his journey. This meant that he needed to be resourceful and imaginative if he intended to survive. As he began to realize his rescue should not be expected, and that he needed to figure out ways to secure food and potable water, he began to make use of everything the raft had to offer. He used the canvas on his life jacket to catch and channel rain water. He then also fashioned small fish hooks from the wire on his electric stove and larger fish hooks from nails he dug of out of wood in the raft itself. He also managed to create a knife out of one of the used biscuit tins.
Another Set Back
With his fishing supplies, he was able to sustain himself by catching whatever swam around his boat. He would constantly fish, even if he had enough food as was. He would take the fish he had caught, lay them out over the hemp wires attached to his small sail, and dry them out to cure them. He eventually had a nice food storage saved up, but at one point, a storm rolled through and ruined both his dried fish and potable water he had secured and saved. The storm really set Poon Lim back, and actually nearly killed him as he was unable to catch any fish and without rain, there was no water to drink.
But Poon Lim, being on the verge of dying, and in a last ditch effort began fishing for the birds that were constantly flying around his boat, and landing in the water near him. Luckily, he was able to catch one and immediately drank its blood to quench his thirst. He continued fishing for birds as they provided enough nourishment and hydration to sustain him. Just long enough for another rainfall to come, while still attempting to fish. Though, one issue he mentioned repeatedly was that after catching and killing the birds, he soon realized why it was so difficult to catch fish. That being the blood and remains from the birds had begun to attract sharks, which scared off the fish.
Battling The Seas Toughest Creatures
Finally, realizing these sharks wouldn't be leaving him alone, he decided to use bird meat as bait and lure the smaller sharks in to catch. Finally when a shark took the bait, he pulled it in and dragged the creature into the raft with him. Lim had covered his hands in canvas for both protection and grip and proceeded to bludgeon the shark with a half filled jug of water until it died. Though Lim recalled the battle was fierce and drawn out, as you would imagine, and the shark injured Lim many times. But he was the victor, and Lim cut into the shark and quickly began to drink the blood from the creatures liver. For the icing to the cake, Lim also cut the fins off of the shark and allowed them to dry in the sun. This was probably more enjoyed than we can imagine, as shark fins have long been a Hainan Chinese delicacy. And Lim, at this point, had more than earned a little reprieve from his situation, so he was sure enjoy the fruits of his labor.
Despair Set In
Throughout his 133 days at sea, Lim had spotted numerous other ships, and occasionally even patrol plains flying over head. For a while he believed that the ships wouldn't rescue him because he was Chinese, but eventually realized they simply couldn't spot him. At one point, a patrol plain did spot him and actually dropped off a marker buoy to rescue him. But soon after, another fateful storm began and swept the buoy away, once again leaving him alone and adrift. He even mentioned another German U-Boat which Lim was sure that spotted him. The boat was completing gunnery drills and shooting at sea gulls in the air. However, they did nothing to help him and eventually left him alone to his fate.
After a few months adrift, Lim gave up counting the days as he became tired of it. Rather he counted the full moons as they passed. The isolation, structural uncertainty of his small raft, inability to swim, ability to fight hand-to-hand with sharks, ability to catch birds at sea and fashion necessary tools out of what little he had, withstanding exposure to both the sun and sea, and countless other troubles overcome make Poon Lim both a man and name to remember. 133 days surviving with all of this in mind is nothing short of remarkable.
Finally Being Rescued
He was finally rescued in 1943 as he came closer to land. Days earlier he had mentioned he knew land was near as the color of the water had changed dramatically. Eventually three fishermen found his raft and rescued him. Over the course of his journey, he had lost nearly 20 pounds of weight. However, and as a testament to this mans strength and fortitude, upon reaching land, he got off his raft and walked ashore unaided. He then spent the next month in a Brazilian hospital, and was eventually returned to Britain. That's the amazingly true story of Poon Lim, a true survivor, and man among men!
At Wilderness Aware Rafting, we understand how a proper family rafting vacation can create some of the best memories a person can have, after all, we have our testimonials to base that off of. If you are interested in a Colorado Rafting Trip, Denver Rafting, multi-day rafting trip, or want to try rafting the Salt River near Phoenix, AZ, please be sure to contact us and find out what white water rafting trips we have available.